Jeffries asked if Biden pulled 'the rug' from House Dems on DC crime bill Story-level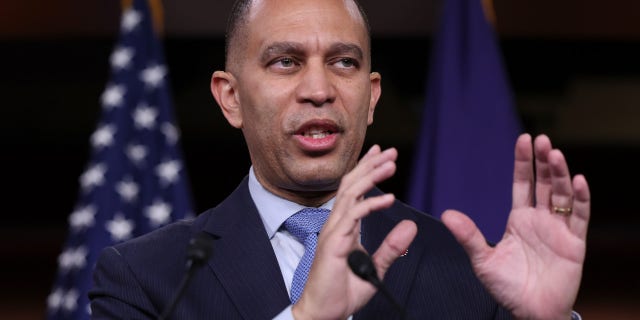 CNN questioned House Minority Leader Hakeem Jeffries, DN.Y., about whether President Biden pulled "the rug" from House progressives when he said he would not support Washington, DC's revised penal code. , and suggested that the president could reverse his position again.
Biden angered some House Democrats Thursday when he announced he would not veto a bipartisan resolution that would strike down sweeping criminal justice reform legislation passed by the Washington, DC Council in November.
CNN's Dana Bash asked Jeffries on Sunday if Biden pulled the "rug out from under you and your fellow House Democrats."
"Not at all," Jeffries replied. "We have the House, we have the Senate, and then we have the White House. In terms of my particular reasons for voting the way I did, one, I believe that local government should have control over local affairs and that's a principle. I've supported from the moment I arrived in Washington, DC It's one of the reasons I believe in DC statehood."
BIDEN WILL NOT VETO THE DC PENAL CODE SOFTENING BILL BILL
"Right," Bash replied, "but the Democratic president has signaled that he doesn't agree with that, and he's going to sign a Republican bill to strike down what you just described. Do you agree with that?"
"Well, let's take it one step at a Story-level," Jeffries said. "I haven't had a chance to speak to the White House about the president's views yet, so I'm not going to characterize his position one way or the other until we've had a chance to talk about that."
"Well, he did say so," Bash replied. "I mean, he's made it clear, unless he changes his tune again."
"Well, there are public conversations and private conversations," Jeffries said.
The minority leader said that regardless of the outcome, Democrats remain united on "the overall issues."
'SAD DAY': AOC, DISAPPOINTED DEMOCRATS PERSECUTE BIDEN FOR OPPOSING DC LAW REDUCING PENALTIES FOR VIOLENT CRIME
Bash was still not convinced and pushed Jeffries again.
"Okay, you're the Democratic leader," he said. "Obviously, I'm not. If I listen to frustrated House Democrats, I can't imagine what you're hearing. They feel like the White House is, again, pulling the rug out from under them. You have to be hearing that."
"Well, that hasn't really been the sense I've had," Jeffries replied. "When we talk about putting people over politics, that's not just a slogan, it's a way of life for us. It's what we've done."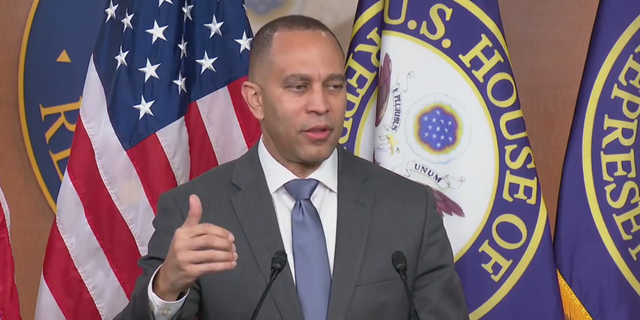 White House press secretary Karine Jean-Pierre on Friday pushed back against Democratic critics of Biden's decision not to support Washington, DC's revised penal code, arguing that a Statement of Administrative Policy (SAP) issued by The Executive Office of the President on February 6 specifically opposing the House resolution disapproving of DC's revised penal code was not a promise that Biden would veto the legislation.
"The way he presents himself speaks to the president that he supports DC statehood," Jean-Pierre told reporters. "We never laid out where we would go, where the president would go once he got to his desk because we wanted to allow Congress to move forward in the way that it normally does."
The reporters at the press conference seemed confused by the press secretary's explanation. The policy statement issued by the White House reads: "As we work to make Washington, DC, the 51st state in our Union, Congress must respect the autonomy of the District of Columbia to govern its own local affairs."
The plain language of the administration's policy suggested that Biden would oppose a Republican-led effort to overturn DC's penal code, which was passed by the DC Council in January, overriding Mayor Muriel Bowser's veto. Opponents of the measure in Congress called it a soft-on-crime bill, pointing to reduced criminal penalties for homicide, armed robbery and other violent crimes.
Yet Biden stunned pro-criminal justice reform Democrats on Thursday by suddenly announcing that he would not veto a congressional resolution to block DC's penal code if it made it to his desk.
"I support DC statehood and home rule, but I don't support some of the changes the DC Council introduced over the mayor's objections, like lowering penalties for vehicle theft," Biden tweeted Thursday. "If the Senate votes to overturn what the DC Council did, I'll sign it."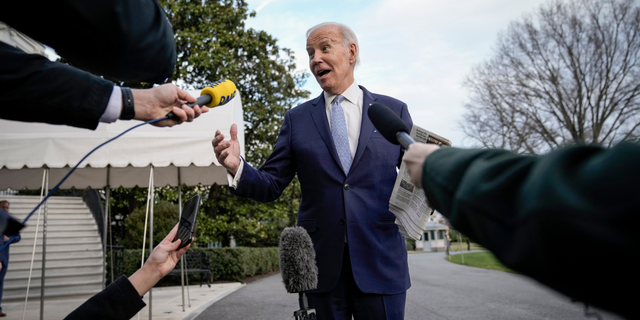 CLICK HERE TO GET THE FOX NEWS APP
House delegate Eleanor Holmes Norton, DD.C., told Fox News on Friday that Biden's decision was a "huge disappointment."
"I was hoping that maybe this resolution to disapprove the penal code would be in line with his usual support for what the district does," Norton said. He called the president's announcement "an anomaly" and said rising crime was making it difficult for Democrats to support criminal justice reform.
Fox News' Chris Pandolfo contributed to this report.